64 Lakeside Drive, Holiday Island, Arkansas
Come and Visit... Our vacation home at 64 Lakeside Drive on Holiday Island, Arkansas could be the perfect setting for your next vacation. Located "on the Island" of Holiday Island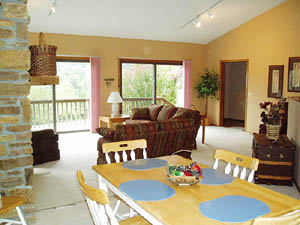 you will be surrounded by peace and quiet, but still close to activities.
Our home has 3 bedrooms and sleeps 6. There are 2 bathrooms.
Holiday Island is a 4,500 acre planned community just north of Eureka Springs, Arkansas. Located on the Arkansas and Missouri border on the headwaters of the 50,000 acre Table Rock Lake, Holiday Island is the perfect vacation getaway.

Holiday Island has 2 golf courses: an 18 hole course "on the hill" (as the locals say), and a 9 hold course "on the Island"), a recreation complex with 2 swimming pools, tennis courts, horseshoe pits, miniature golf and numerous other activities.
The 9 hole golf course and the recreation complex with swimming, miniature golf, tennis, and other activities are only a few blocks from your home. An activities card can be purchased at the recreation center.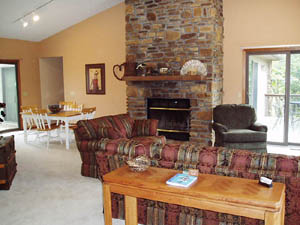 But what really makes a Holiday Island vacation special is the natural beauty and the quiet. You will find some of the most breathtaking vistas in the region. It is not uncommon to set on the deck and see deer, blue birds, eagles, geese, and other wildlife.
Holiday Island restricts street lights, so the nights are special. You'll be amazed at how bright the nights can be with just moon light and star light. And if it is a clear night, it is enchanting simply to stand on the deck, gaze at the Milky Way and listen to the whippoorwill (click here to hear a whippoorwill)
In The Area
There is plenty to do without ever leaving Holiday Island, but you will at least want to drive into Eureka Springs. It only about 10 miles. You will find restaurants, shops, and a wide assortment of tourist activities. But the big attraction is just the town itself. Take the time to drive around town.
Branson Missouri is only 45 miles away. Close enough to drive up in the morning, catch an afternoon show, and be back before dark. Allow about 1 1/2 hours for the drive. Take your time and enjoy the views of the Ozark Mountains.
After you have fished out Table Rock Lake, try your luck at Beaver Lake. It just a short drive to the southwest of Holiday Island.